Antoni Gaudí 
Architect and designer, Antoni Gaudí was at the forefront of the Art Nouveau movement in Spain. His work in Barcelona led to the creation of some of the city's most notable landmarks. Gaudí was a pioneer in his field using color, texture, and movement in ways never before imagined. His works, both finished and uncompleted, stand as testimony to his genius.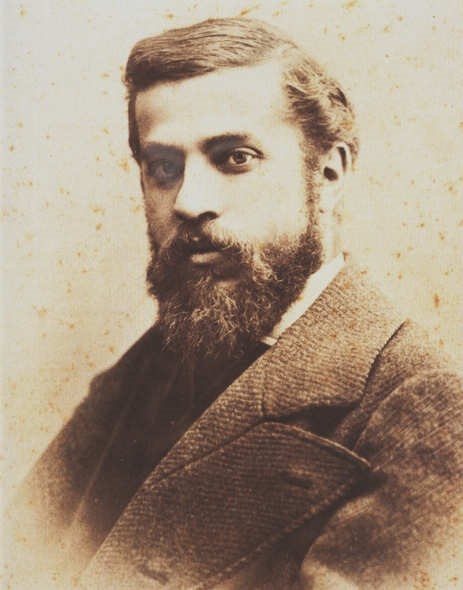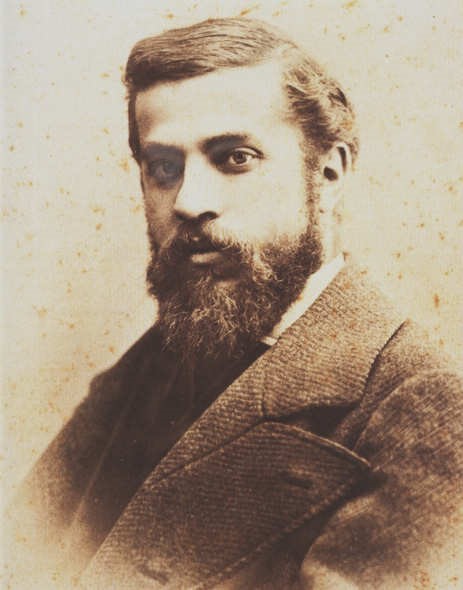 Chronology and history of Antoni Gaudí's life (1852-1926)
1852
Antoni Gaudí i Cornet was born on 25 June 1852 in Reus or Riudoms in Catalonia. An uncertified birthplace, but a child surrounded from birth by a father and a grandfather boilermakers who taught him essential notions for his future: making with his hands and having a sense of volumes. A child in delicate health who will spend very long periods observing the nature: "the supreme work of the creator".
1870
It was at the age of 18 that he began his studies as an architect in Barcelona. Gifted for drawing, exempt from military service because of his health, he collaborated during this period with many architects for whom he drew and thus paid for his studies. He developed a taste for history, economics, geometry, philosophy and aesthetics. He will be an average student but not an insignificant one. Its director will have this famous phrase at his graduation ceremony: "We awarded the diploma to a madman or a genius. Time will tell".
1883
Gaudí's career really began with the construction of Casa Vicens. Long closed to the public, this house can be visited since the end of 2017.
From this first project, the young architect found his way away from his first inspirations: Eugène Viollet-le-Duc and the neo-Gothic style to become part of the Art Nouveau movement which then took off all over Europe. In Catalonia this style took the name of Modernisme. The Casa Vicens will be a concentrate of his first traits of genius and the flight of Modernism: shapes still geometric on the outside but nature, Orient with its colors and mosaics are sources of inspiration on the inside.
 1884
Gaudi has long been associated with a wealthy industrialist, Eusebi Güell. A true friendship, mutual admiration and a flamboyant era in the country's economy gave birth to some of the architect's most beautiful works: Finca Güell (1884-1887), the Güell Palace (1885-1889), the Crypt of the Colonia Güell (1898-1915) and finally the Guell Parl(1900-1914).
 1888
The 1888 Barcelona World's Fair welcomed more than 400,000 visitors and Gaudí designed the pavilion of the Compagnie Transatlantique.
1900
At the turn of the century he was a renowned architect, involved in many projects. In 1900, he received the prize for the best building of the year for the Casa Calvet (1898-1900). The Casa Bellesguard, the restoration of the Cathedral of Santa Maria de Palma de Majorca and two of its most emblematic works, two houses: the  Casa Batllo (1904-1906) and the Casa Mila (1905-1907), are the result of a decade of splendour that saw them emerge from the earth.
1915
He now devoted himself entirely to the work of his life, the  Sagrada Familia or the "Cathedral of the Poor" (his popular name), for which he even went so far as to ask for alms so that he could continue the work. The work is due to end in 2026, again thanks to donations from visitors.
1926
On June 7, 1926, going to the church of Saint-Philippe Néri, Gaudi was overthrown by a tramway, which left him unconscious. Taken for a beggar, without papers and of neglected aspect with his old and worn clothes, he was not rescued immediately. When he was recognized it was already too late to save him. He died on June 10, 1926, at the age of seventy-three. He was buried on June 12, in the chapel of Our Lady of Carmel in the crypt of the Sagrada Família, in the presence of an immense crowd.
On his tombstone is the following inscription:
« Antonius Gaudí Cornet. Reusensis. Annos natus LXXIV, vitæ exemplaris vir, mirabilis operis hujus, templi auctor, pie obiit Barcinone dit X Junii MCMXXVI, hinc cineres tantis hominis, resurrectionem mortuorum expectant. R.I.P. »
Translated as follows: "Antoni Gaudí Cornet. Originally from Reus. Born 74 years ago, an exemplary man, an exalted craftsman, author of the admirable work of this temple, died in Barcelona on 10 June 1926, here the ashes of such a great man await the resurrection of the dead. R.I.P. »
Antoni Gaudí's main works
Cooperativa Obrera Mataronense 1878-1882  Mataró
El Capricho 1883-1885  Comillas
Casa Vicens 1883-1888  Barcelona
Templo Expiatorio de la Sagrada Familia 1883-1926 Barcelona
Pabellones Güell 1884-1887 Barcelona
Palacio Güell 1886-1890 Barcelona
Colegio de las Teresianas 1888-1889 Barcelona
Palacio Episcopal de Astorga 1889-1915 Astorga
Casa Botines 1891-1894 León
Bodegas Güell 1895-1897 Sitges
Casa Calvet 1898-1900 Barcelona
Torre Bellesguard 1900-1909 Barcelona
Park Güell 1900-1914 Barcelona
Portal Miralles 1901 Barcelona
Casa Batlló 1904-1906 Barcelona
Jardines de Can Artigas 1905-1906 La Pobla de Lillet
Casa Milà 1906-1910 Barcelona
Cripta de la Colonia Güell 1908-1915 Colonia Güell (Santa Coloma de Cervelló)
Discover Antoni Gaudi's most visited monuments in Barcelona: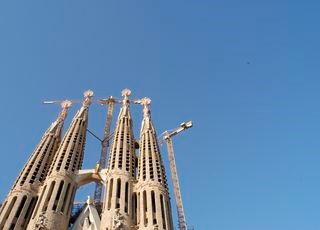 The Sagrada Familia. The masterpiece of Antoni Gaudí and the most visited monument in Spain. Definitely the one you should visit first! Its history, its architecture and our advice to discover it.
The Park Güell was destined to become a "garden city". This titanic project by Gaudí was never finished. It remains today as it was at the time: two houses and the park. An extraordinary park of course.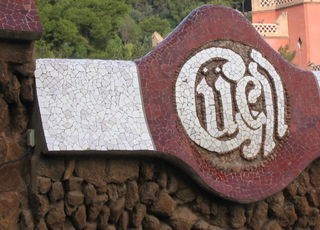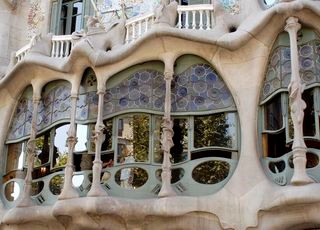 The Casa Batlló is the most original and dreamlike of the achievements of the architect Antoni Gaudí that you can visit in Barcelona. Polychrome facade decorated with ceramic and glass, undulating roof representing a mythical dragon. Discover the fundamental work of Catalan modernism.
After the Sagrada Familia, La Casa Milà or "la Pedrera" as it is often called, is probably Gaudi's second most popular building in Barcelona.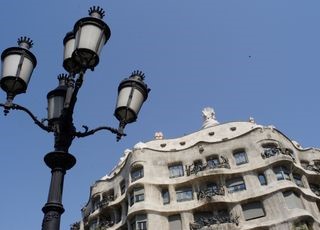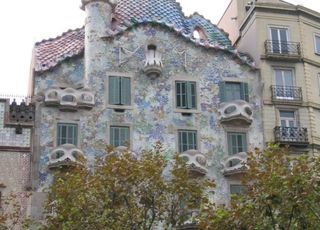 La Manzana de la Discordia. In the same block of buildings, the work of four of the most important architects of the moment! Casa Lleo Morera,Casa Batllo, Casa Amatller, Casa Mulleras.
La Casa Calvet of Antoni Gaudí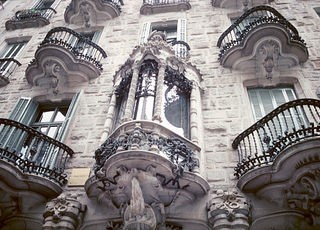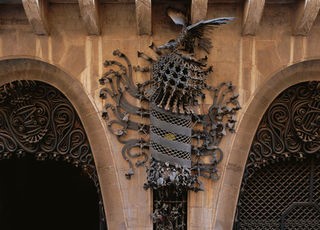 The Guell Palace in Barcelona: a rich industrial Family named Guëll asked Gaudi to built this Palace. They lived all their life in the Palace.
The Casa Vicens is the first important work of Antoni Gaudí. Opened for the first time to the public in autumn 2017. Its inspiration is not yet naturalist, but already the genius of the architect points in each detail of the building.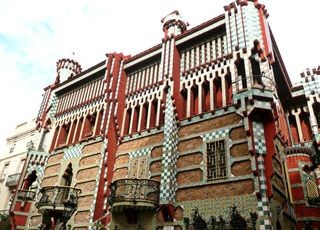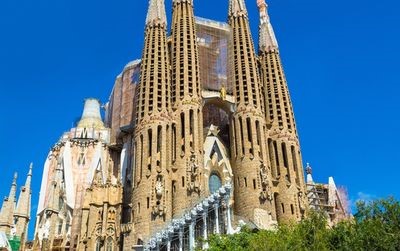 To avoid the unavoidable queues for this emblematic  monument of the Catalan capital, we advise you to purchase in advance your skip the line tickets with priority access to La Sagrada Familia.
An hour and a half visit with an English speaking guide to discover all the secrets of this extraordinary architectural monument, its symbols, its history and its immense architect Antoni Gaudí.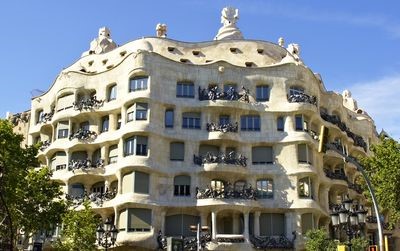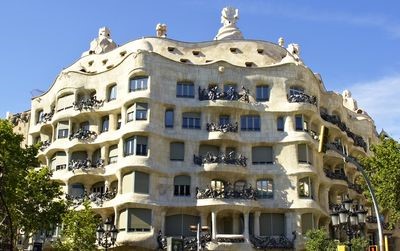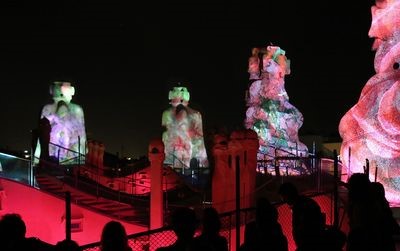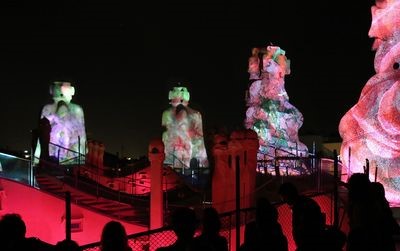 Gaudí's astonishingly ornate Casa Milà.
With its flowing exterior and the whimsical chimney pots on its roof, Casa Milà – also known as La Pedrera – represents Gaudí at the top of his game. The ornate interior is also the handiwork of the great Catalan architect. Skip the line and get right into this modernist masterpiece.
Enjoy a unique, breathtaking and immersive audiovisual show on the roof terrace
Travel back in time, 100 years of history await ? Savour a glass of sparkling wine with spectacular views of Barcelona.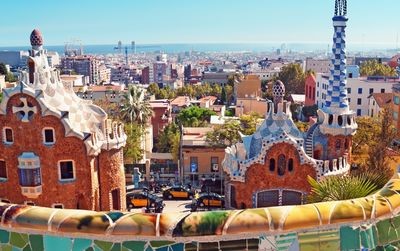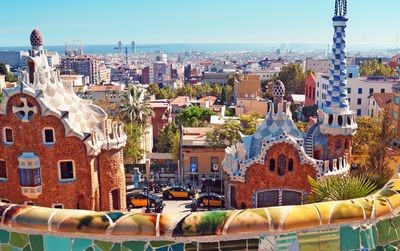 24,50€ – Skip the line at the seemingly animated Casa Batlló, one of Gaudí's most surprising works. From the smallest details in the interior, to the famous slain dragon on the roof, this is a true Gaudí masterpiece.
Flamboyant yet subtle, Park Güell is Gaudí's fanciful imagination on a large scale: an entire park. Perched above Barcelona, Güell features lush gardens, quirky buildings, and all kinds of fanciful details. From the lizard at the entrance, to the famous snaking Serpent Bench the details will put a smile on your face.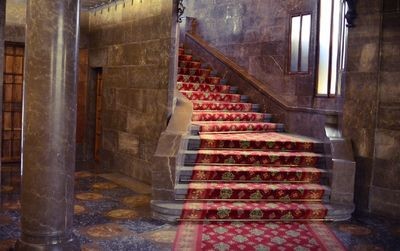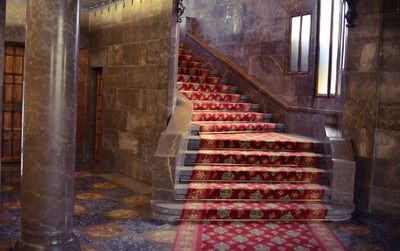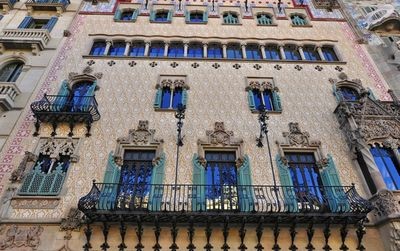 After many years of restoration reopened in 2011, Palau Güell welcomes you with its breathtaking splendour and turns your visit with the included audio guide into a lasting memory.
Casa Amatller was remodeled to a new modern state by Puig i Cadafalch, one of the most famous architects from Gaudí's time. You can almost see inside his twisted mind when you look at the facade – a mind-bending mishmash of colorful tiles!
See master architect Antoni Gaudí's first masterpiece Casa Vicens! And discover all the candy-colored secrets of this jaw-dropping summer house.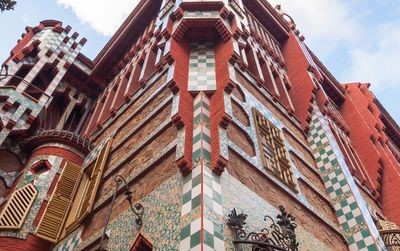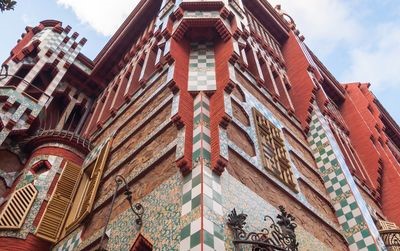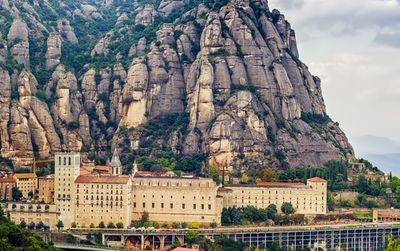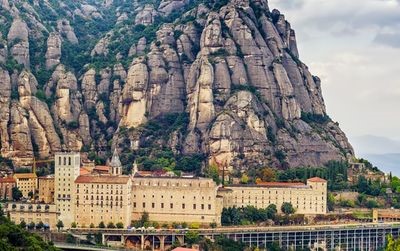 This daytrip to Montserrat is a chance to escape the city craziness of Barcelona and satisfy your craving for calm. At the top of a distinctive mountain (its name means "Serrated Mountain" in Catalan) you'll see some spectacular art, mooch about one of Catalonia's most magnificent places, and even enjoy a spot of liqueur tasting.